THREE BRIDGES PARK
Whether it's the paved trails that wind around sculpted rolling hills or the small oaks that are growing into mighty giants or the stunning views of Milwaukee's skyline, nature and impressive views await you at every corner of the award-winning Three Bridges Park, a 24-acre urban oasis in the Menomonee River Valley.
Located along the Menomonee River between 27th and 37th Streets, Three Bridges Park was once part of a wild rice marsh, then a rail yard, and then a vacant site for decades. Through passion, persistence, and partnership, Three Bridges Park opened in 2013 and is enjoyed by more than 50,000 visitors each year.
The park features:
Two miles of accessible biking & walking trails

River access for fishing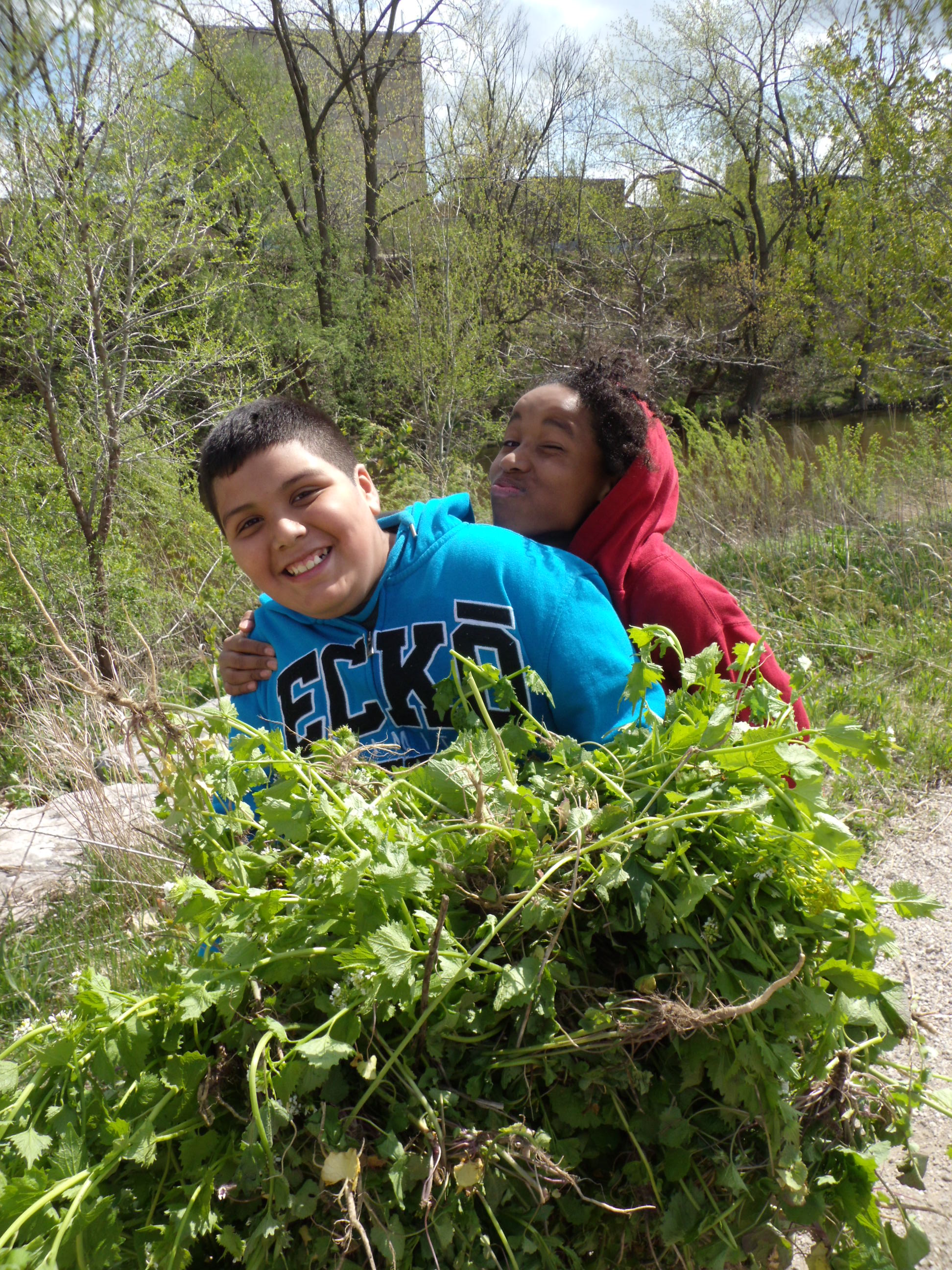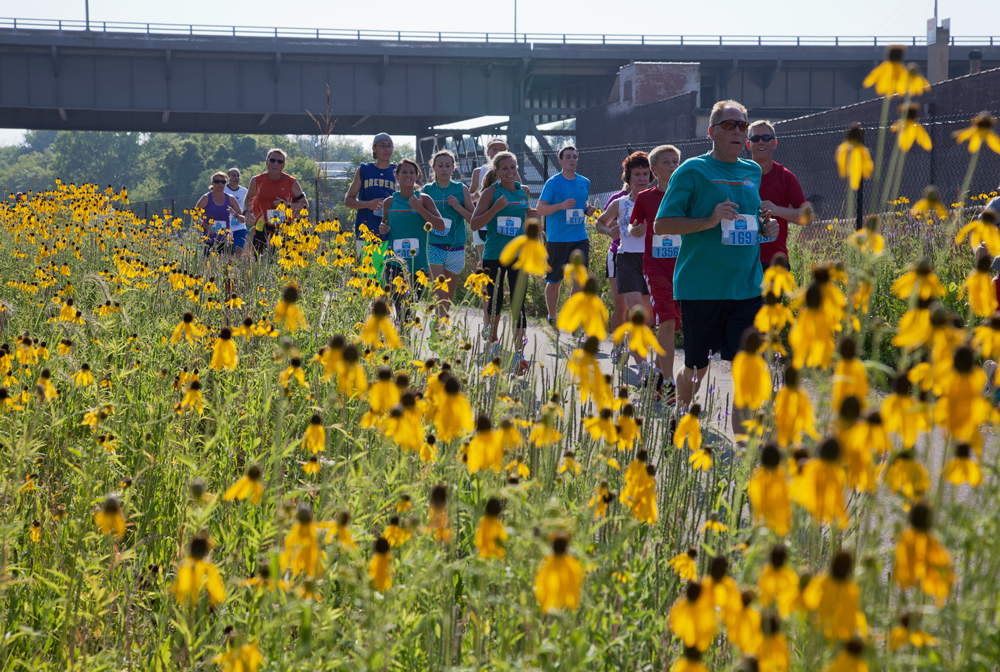 Help this park continue to thrive! Volunteer opportunities abound - community science, land stewardship, special events, and much more!

Parking
Three Bridges Park isn't visible from the street. There are four convenient places to park from which you can walk into the park. The map above shows where you may park or you may download a PDF.
Street parking on W Canal St across from Ingeteam (3550 W Canal Street). Pay attention to posted signs as parking permissions vary, especially when the Brewers are playing (see schedule here).

Behind Palermo's Pizza at the south end of 33rd Court

Near the Urban Ecology Center (3700 W Pierce Street).

In the parking lot behind (to the north of) the Mitchell Park Horticultural Conservancy (The Domes, 524 S Layton Boulevard).
things to see & do here
This park is more than a pretty place. The Urban Ecology Center uses it as their outdoor science classroom to give kids hands-on experiences to explore waterways, native flora and fauna, and regional history. It is a place where volunteers nurture the land for future generations. It is a quiet place of respite in the heart of the city. It is a Milwaukee destination for outdoor recreation and learning.
Explore the trails via bike, foot, skates, or wheels
there's more here than you can see
Rolling Hills - Hills were built to resemble natural glacial landforms (kames, drumlins, and eskers) to teach children about southeast Wisconsin's natural topography in true to life form and almost to scale.

River Restoration - Stones and boulders were added to the river to vary the direction of water flow and improve fish habitat.

Natural Stormwater Filtration - Swales, a low area of land that collects stormwater, were designed to manage water runoff, filter pollutants, and increase rainwater infiltration.

Snake Hibernacula - Underground chambers provide a home where snakes can safely spend the winter protected from the cold.

Wildlife & Native Vegetation - The list of native plants and animals, those that were here long before the 1800s, grows each year. Read more in the Urban Ecology Center's 2017 Community Science Review.

Community Scientists - The Urban Ecology Center welcomes community and professional scientists to Three Bridges Park to perform research and observe the wildlife. Read more in the Urban Ecology Center's 2017 Community Science Review.
Frequently Asked Questions
Can I reserve space or hold an event in Three Bridges Park?
Three Bridges Park is available on a first-come, first-served basis. There are no grills or open flames allowed due to the prairie grass. Note that there are no garbage bins in the park due to maintenance costs. Please be respectful of all part users and remove everything you bring in so we can keep a clean, green park for all. There are no restrooms in the park. The closest restrooms are in the Urban Ecology Center (3700 W Pierce Street) or in the picnic area of Mitchell Park.
Why isn't the Hank Aaron State Trail plowed in the winter?
Currently, the Wisconsin Department of Natural Resources does not have funding to plow the Hank Aaron State Trail; however,partners at the City of Milwaukee generally plow from Selig Drive east to 25th Street, and adjacent property owners generally take care of the path in front of their buildings east from 25th up to about 11th Street.
history of this park
On Saturday, July 20, 2013, Three Bridges Park opened to the public with a dedication and family celebration. It is the largest park developed in Milwaukee in decades and marks the continued transformation of the Menomonee River Valley into an asset for families, children, fishers, hikers, bikers, boaters, businesses, and employees in the area.
What's in a name?
With its steep banks and man-made barriers like train tracks and freeways, the Menomonee River Valley has historically been largely disconnected from the rest of the city. This meant that nearby neighbors were cut off from its employment opportunities and recreational assets. The park's three bridges provide bike/pedestrian connections to bring our community together.
Valley Passage and the Silver City Bridge
The Valley Passage was constructed at the same location where generations of workers streamed through a tunnel beneath the railroad tracks and across the river via a pedestrian bridge on their way to jobs in the Menomonee River Valley. When industry left in the mid-1900s, the bridge was torn down. The Valley Passage (a railroad underpass), the Silver City bike/pedestrian bridge over the Menomonee River, and a path up to 37th and Pierce Streets restores that historic connection between the Menomonee River Valley and Silver City neighborhood.
Menomonee Bridge near 33rd Court
Potawatomi Bridge leading to Mitchell Park/Domes
Three Bridges Park offers a chance to create a place for people to come together in what was once widely thought of as far back as the native tribes and spans Father Groppi's march across the Valley and Hank Aaron's accomplishments playing baseball in the Valley's west end. The Menomonee River Valley has a rich narrative of bridging the past to the future, bridging north to south, and bridging early and modern manufacturing. Three Bridges Park bridges nature and the city, allowing neighbors to cross over the industrial corridor and access a place of respite in the heart of the city. The park's programming bridges the past and the future, educating about the rich history of this land and connecting people through ongoing volunteer activities.
Learn more about this park's incredible transformation from a vacant railyard to a much loved park in this video from 2014, one year after the park opened.
see how others enjoy three bridges park
Use #ThreeBridgesPark on Instagram and your images will appear here!